Typo Belgiëque Workshop
An introductory course to type design
Professionals (ex VAT): €759
Students (VAT included): €379
---
This 4-day hands-on workshop, hosted by Typojo, is aimed at professional designers and creatives, who want to start learning the basics of how to design your own original typeface and generate the font you always dreamed of.
Friday 6 May 2022 | Friday 13 May 2022 | Friday 20 May 2022 | Friday 27 May 2022
Whether you are a graphic designer, book designer, information designer, logo designer, website designer, application designer, videogame designer, letterer, calligrapher, or just fascinated with typefaces, all are welcome to attend this workshop, and do not need to have previous knowledge or experience in type design (yet having experience with vector drawing tools is handy). You can either start fresh or even bring a project that you are currently working on and needs further attention.
Participants will have access to original type specimens and other type material from the Typo Belgiëque design & research project, which will serve as a source of inspiration for the new typeface designs. In this introductory course, you will learn the basics of creating a typeface from sketching & drawing the letterforms by hand to digitising your designs and generating a variable font with Glyphs 3, a Mac font editing software.
Each participant will receive a free temporary license for Glyphs 3, as well as a discount to purchase their own full licence. In addition to the group classes & feedback sessions, each participant will also receive personal feedback on their designs.
At the end of this 4-day workshop, the font projects will most likely not be completely finished, yet participants will have gained a respectable start and a profound understanding of the concepts and software used to create digital fonts.
This training course is undeniably an added value to your creative design studio or publishing house!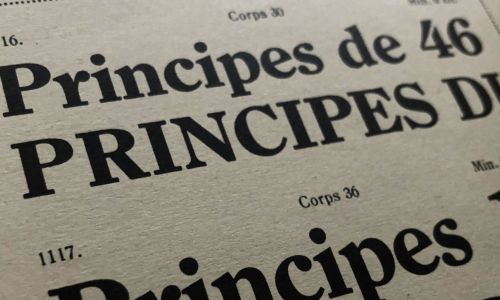 ---
Praktisch
The workshops will take place in-person from 09:00 to 18:00, with a 1 hour lunch break, at DE WINKELHAAK | HOUSE OF C, in walking distance to Antwerpen-Centraal railway station.